Warmer months suit coral and turquoise wedding ideas perfectly, particularly if you're looking for a fresh, vibrant theme or you're having a coastal wedding. The awesome thing about coral and turquoise is that they are extremely versatile. Not only are they used in tropical weddings, but they can work with rustic and vintage weddings as well. You can use different shades of these two colors to match the tone you want to set for your wedding. You can use different accent colors like a gold, grey or a navy shade to make your wedding a tropical fiesta, or a bright, sophisticated affair! Here we list the top 8 gorgeous coral and turquoise wedding color combinations that are sure to fit any wedding style and personality.
Coral and Turquoise For Beach Wedding
Turquoise is not only one of the best colors, refreshing and awakening, it's perfect for a beach wedding when it paired with coral! Turquoise bridesmaid dresses, coral bouquets, coral and turquoise wedding arch, turquoise table runner and chair decor, fish net and sea shell table decorations and many other details will brighten up your wedding! Enjoy the fascinating ideas below and don't hesitate to apply them to your own beachy affair!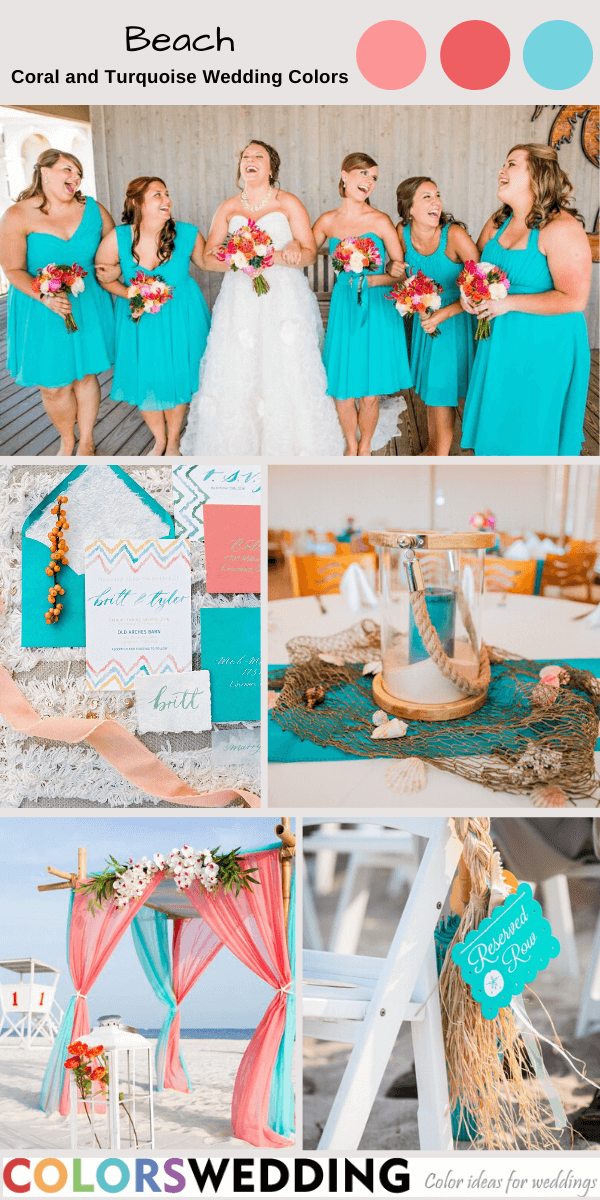 Coral and Turquoise For Boho Wedding
Planning a wedding is really stressful, but having a boho wedding can be stress-free since it's easy to work on. Wild flowers, feathers and greenery all together make the wedding relaxing and enchanting. Coral bridesmaid dresses, wooden table with coral table runner and turquoise napkins, coral, turquoise and white invitation… The combination of coral and turquoise will work well with the rustic setting of the bohemian wedding, no matter where the wedding is. If you are planning a boho rustic wedding, check out these amazing boho chic wedding ideas!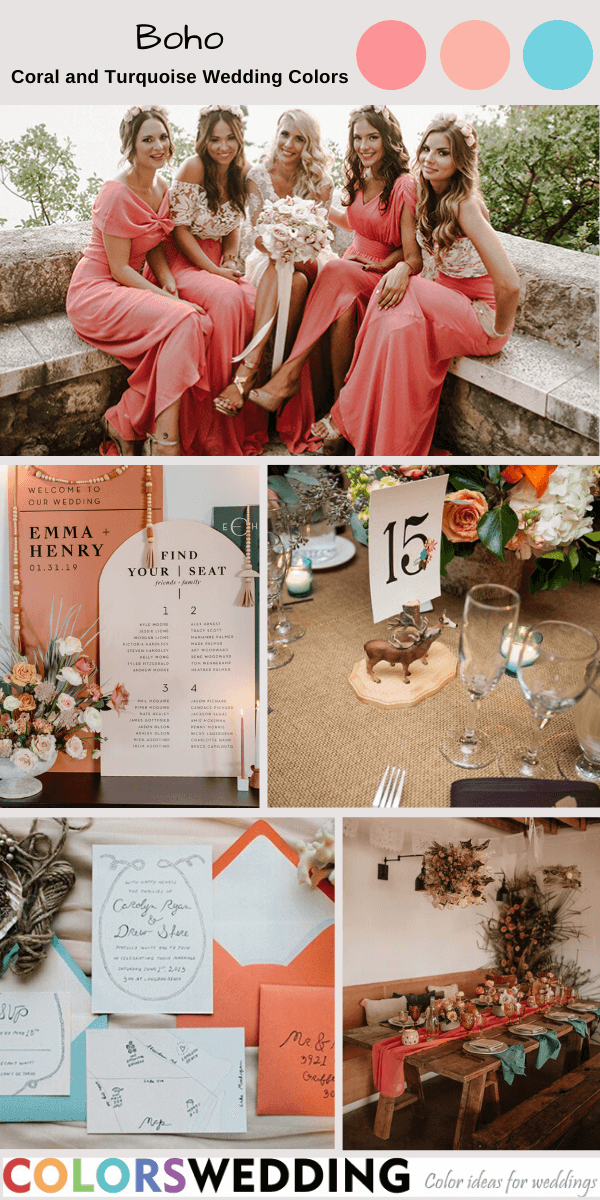 Coral and Turquoise For Garden Wedding
Bright, vibrant colors like coral and turquoise are spectacular for a summer garden wedding and there's so much you can do with this palette. Your bridal party will look spectacular in coral or turquoise dresses, and the color really complements your beautiful wedding dress. Coral and turquoise lanterns make colourful decorations and add to your lighting after dark. The coral stand out against the white layered cake, the turquoise birds are just cute and lovely too.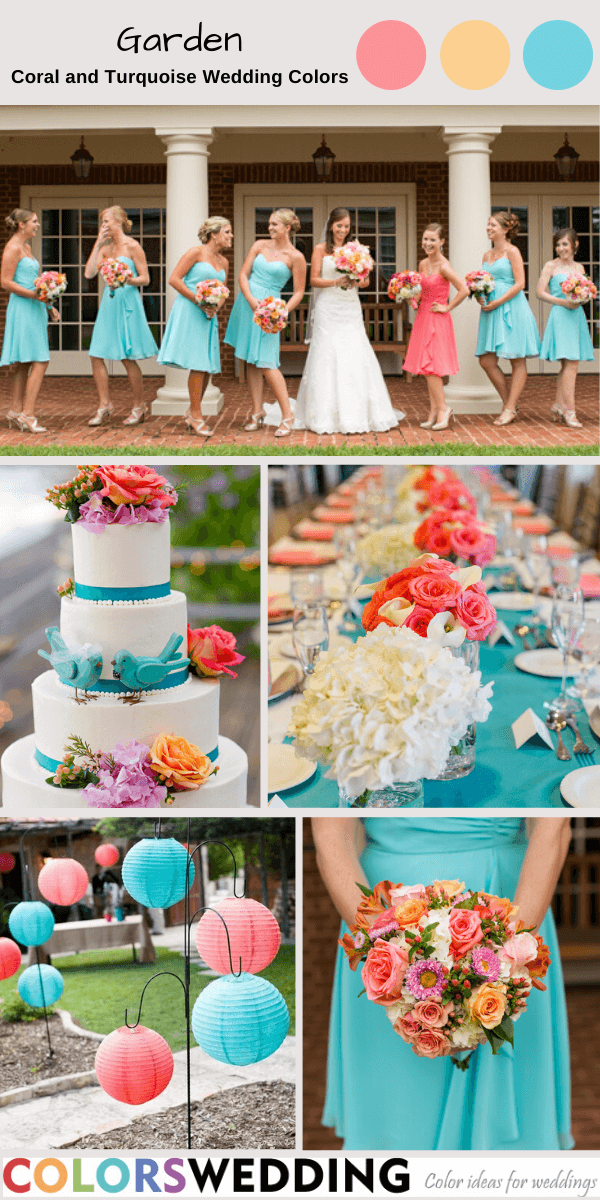 Coral and Turquoise For Farm Wedding
City weddings may be modern but the charm of a country farm wedding can't be denied. This sign made of wood has a country feel. The coral bridesmaid dresses went beautifully with their cowboy boots and statement turquoise jewelry. The smell of wood, romantic string lights, and the boots decor are everything we dream about the country farm wedding. It's really a great choice for everyone to escape from the fast-paced city life and enjoy themselves.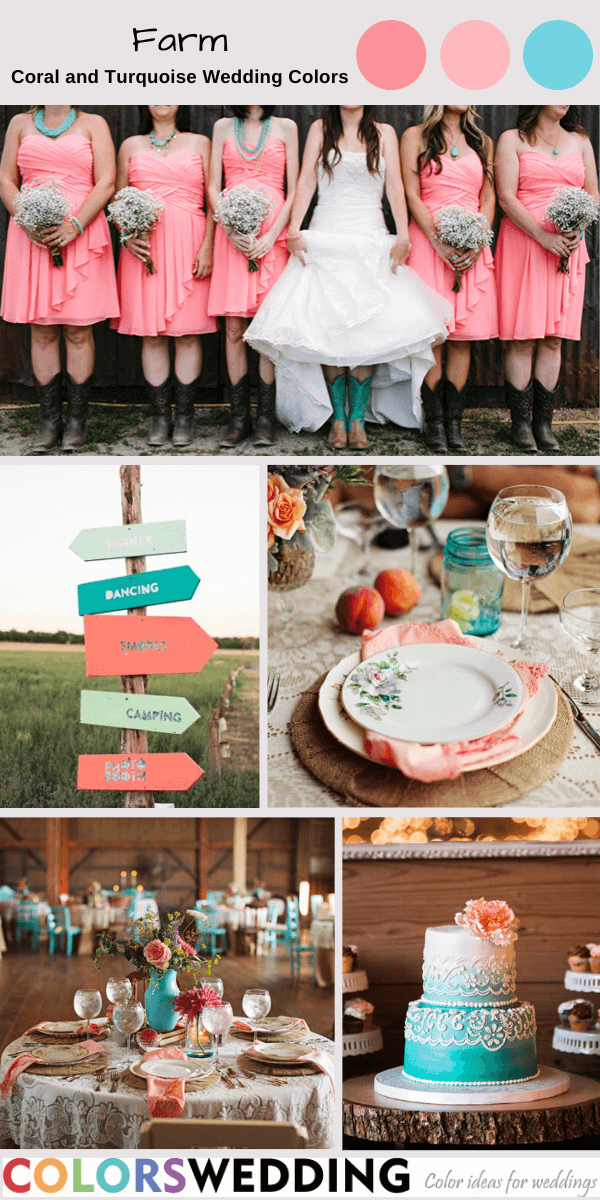 Coral and Turquoise For Modern Wedding
While many couples love a quiet backyard or garden ceremony, some prefer the hustle and bustle of a modern city wedding. If you're in the midst of planning an modern urban event, the brighter colors coral and turquoise color palette will be a good choice. This bright and dynamic color scheme translates perfectly from wedding centerpieces to flowers, decorations and wedding cake, even men's suit. Popping bright warm colors into turquoise, it always looks preppy and fun and is sure to make your wedding venue bold and beautiful!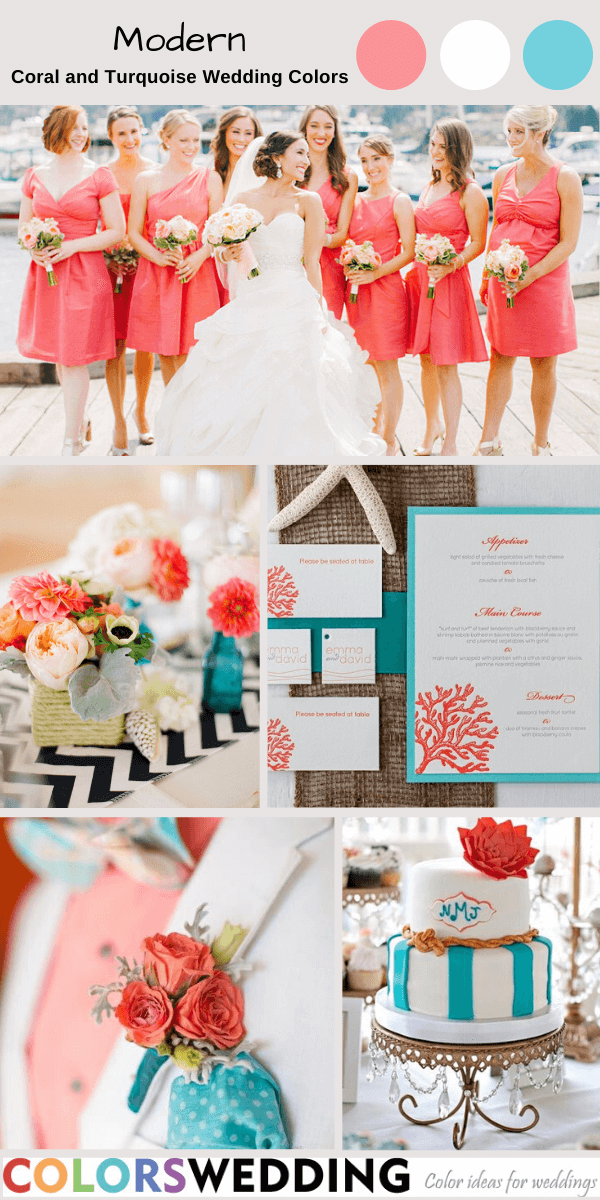 Coral + Turquoise + Gold
The coral and turqupise colors just scream summertime they are light, fun and vibrant — plus, they pair with other perfect summery colors like gold and white. The gold provides just enough glam to modernize the look and feel of this classic look of coral and turquoise. Turquoise and gold painted mason jar, gilded vase and teacup filled with coral and white flowers, gilded tableware, coral napkin… Look at the ideas below to get some inspiration.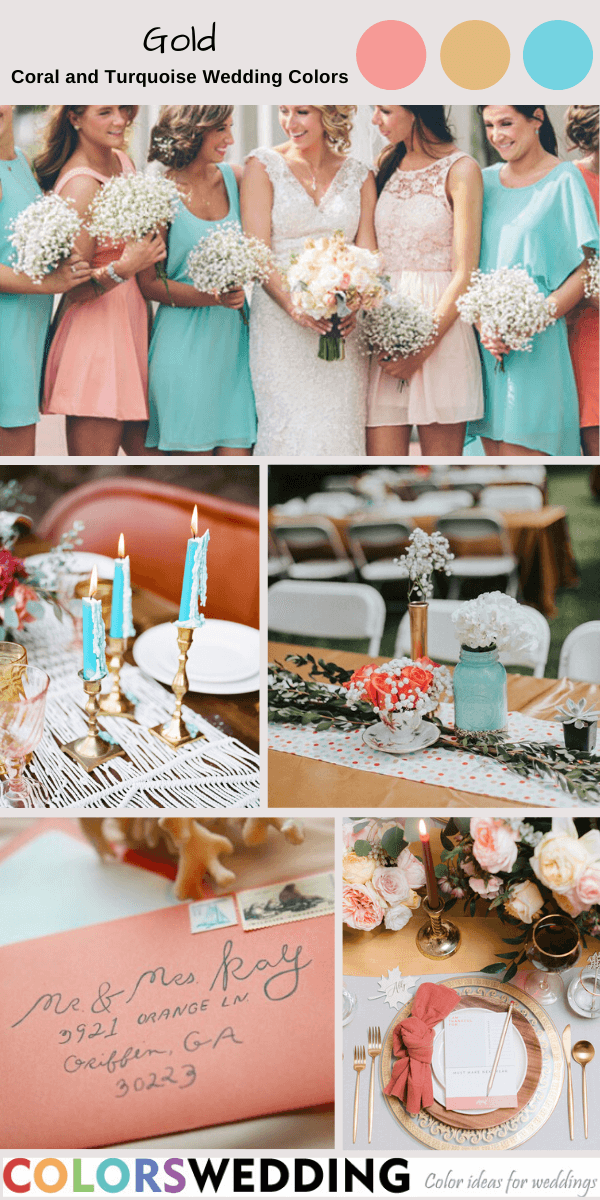 Coral + Turquoise + Grey
The coral and turquoise just happen to pair amazing together, these two bright hues are fun and coordinate well with a light grey to balance out the palette. Coral bouquets match perfectly with bride's in white gowns. And a turquoise tie to a groom's grey suit for a romantic touch. All these colours can be freely used for bridesmaids, coral dresses with turquoise jewelry. The contrast between coral and turquoise added with the basic neutral of light grey is a beautiful color scheme for those who love bright colors.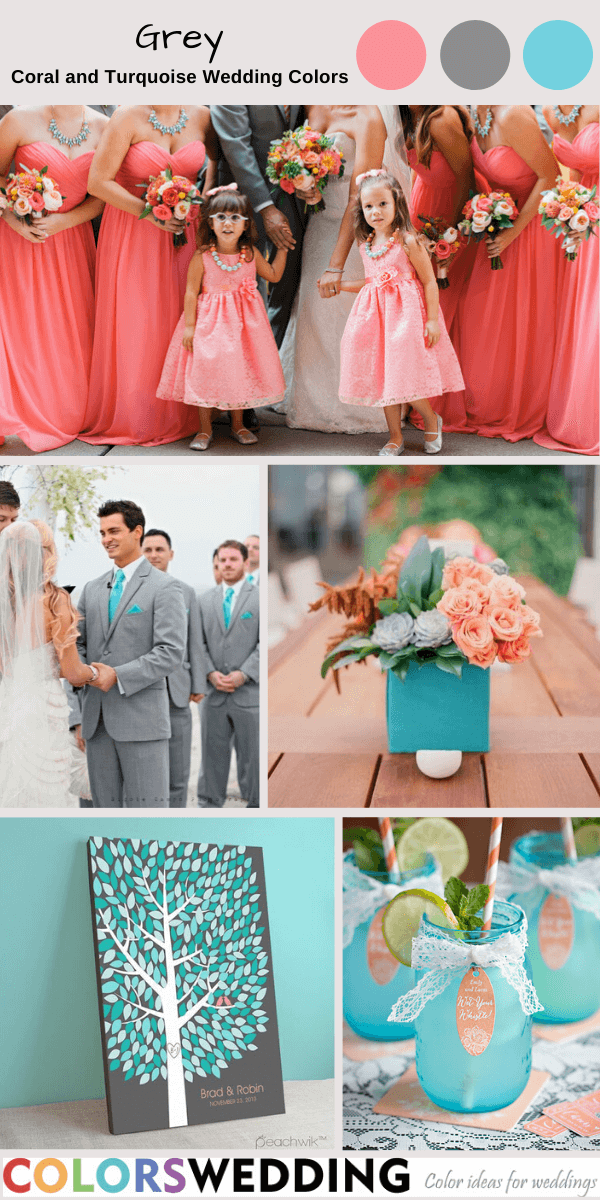 Coral + Turquoise + Navy
If you want to subtly incorporate brighter colors into your wedding decor, coral and turqupise are beautiful to add here and there around your wedding party or reception, dressing your girls in coral, decorate the wedding cake with coral flowers and turquoise sash. But some shades of navy will really draw the eye. Arrange coral bouquet with navy accent, navy tablecloth and gilded forks and it can make a difference for anorganic gardenor a cozy beach wedding.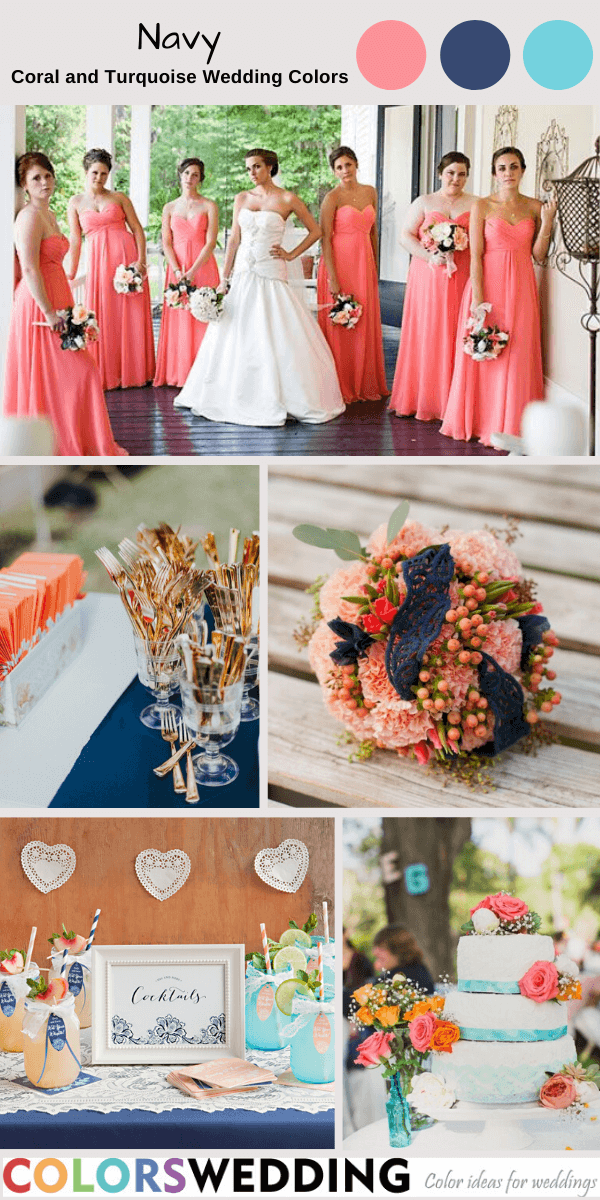 More Wedding Color Combos