The combination of blue and purple is a great wedding color palette throughout the year. The depth of the shades determining the final look. How to apply this color palette in different wedding styles? We list 8 ideas to help you, hope these blue and purple wedding ideas will offer you some inspirations.
Purple And Blue In Beach Wedding
It is very difficult to coordinate the wedding colors well with the sea and the sky in beach weddings. The tones in the picture below is a great example. Girls dressed in light purple bridesmaid dresses and holding bouquets with light purple and white flowers, wood ceremony arch decorate with purple and blue ribbons and flowers, choose a light blue suit for the floret boy, use the light blue and light purple flower decoration in the wedding…All these details are perfect for the beach wedding.
Purple And Blue In Fall Wedding
Purple and blue are very common in fall weddings, if you want to create a strong visual effect in your wedding. The bright blue and purple combination is a good choice. You can accent purple and blue in everywhere of the wedding, such as wedding cake, wedding table number, groom's tie, flower decoration, vase and floret boy's cloth…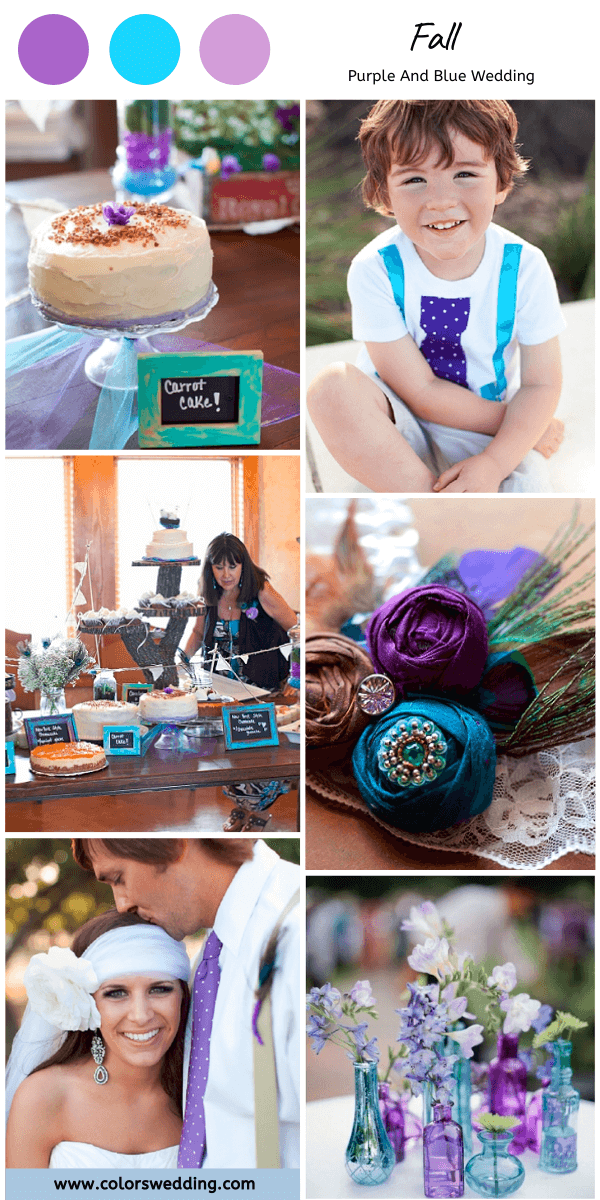 Purple And Blue In Modern Wedding
If you are searching for the wedding colors for your modern wedding. Navy blue and light purple (such as mauve, lilac) maybe can give you some inspirations. Navy blue and light purple are elegant and romantic colors. Choosing light purple bridesmaid dresses for your girls and navy blue men suits for groom and groomsmen, make a navy blue wedding cake and decorate it with some flowers, arrange your wedding table with light purple table cloth and tie some navy blue flower on your wedding chair sash … all these will create a modern look for you wedding.
Purple And Blue In Outdoor Wedding
Purple is a meaningful color. It represents loyalty, strength, and empathy.Blue means calmness, coolness, and peace. If these two colors are combined, they will make your outdoor wedding looks pretty elegant and glamour. Look at these: blue bridesmaid dresses, purple bouquet, blue napkin, white wedding chair decorate with blue knot, purple flower dress accent with some blue details, glittery sliver wedding shoes with blue ribbon, grey men suit and purple tie. Hope you these elements can satisfied you.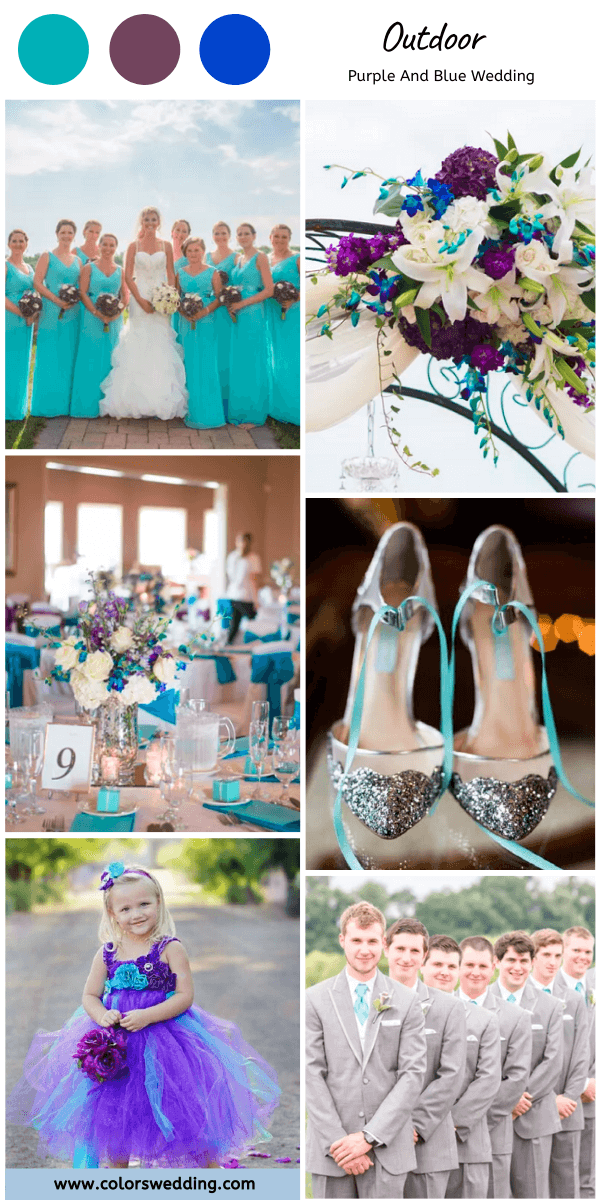 Purple And Blue In Rustic Wedding
Blue and purple are big awesome colors that create a vibe of romance and dream to your special day, especially for rustic weddings. This color palette can applied in every elements of your wedding, such as purple bridesmaid dresses, blue and purple bouquet, blue wedding cake with some purple flowers, light blue men suit and purple bow tie, flower decoration and table numbers in both the two colors.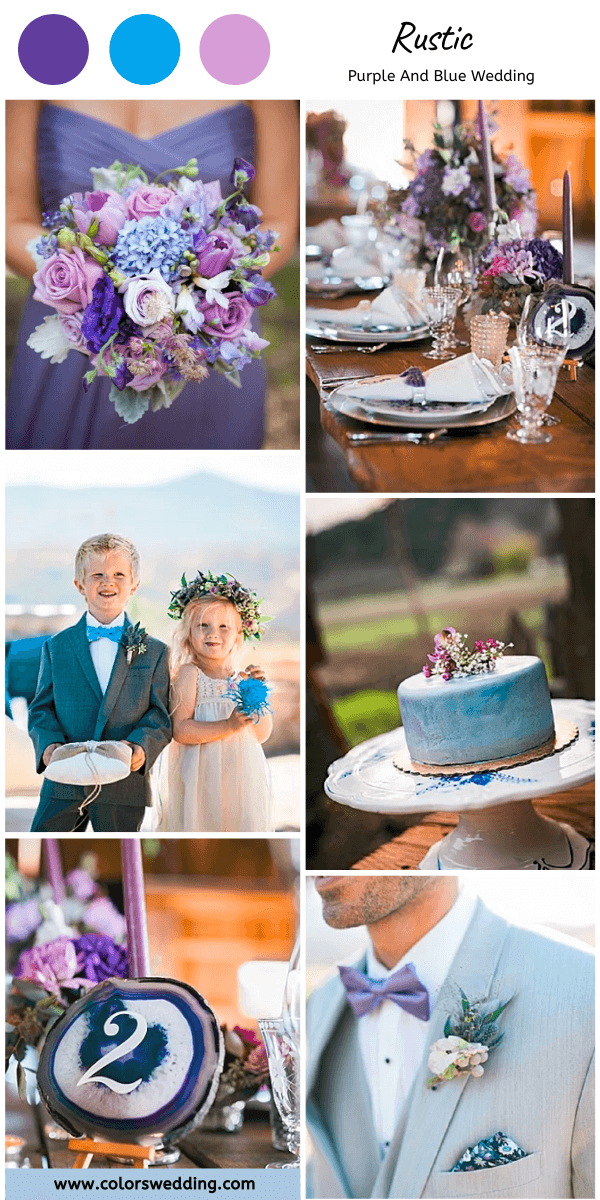 Purple And Blue In Spring Wedding
If you gravitated toward a spring wedding, you might also gravitate toward colorful palette. Purple and blue is perfect for your spring wedding because they are both strong colors. This color palette will make your wedding unforgettable. Here are some ideas: purple bridesmaid dresses, blue wedding cake dotted with purple flower, groom's purple tie, purple table runner, purple and blue bouquet…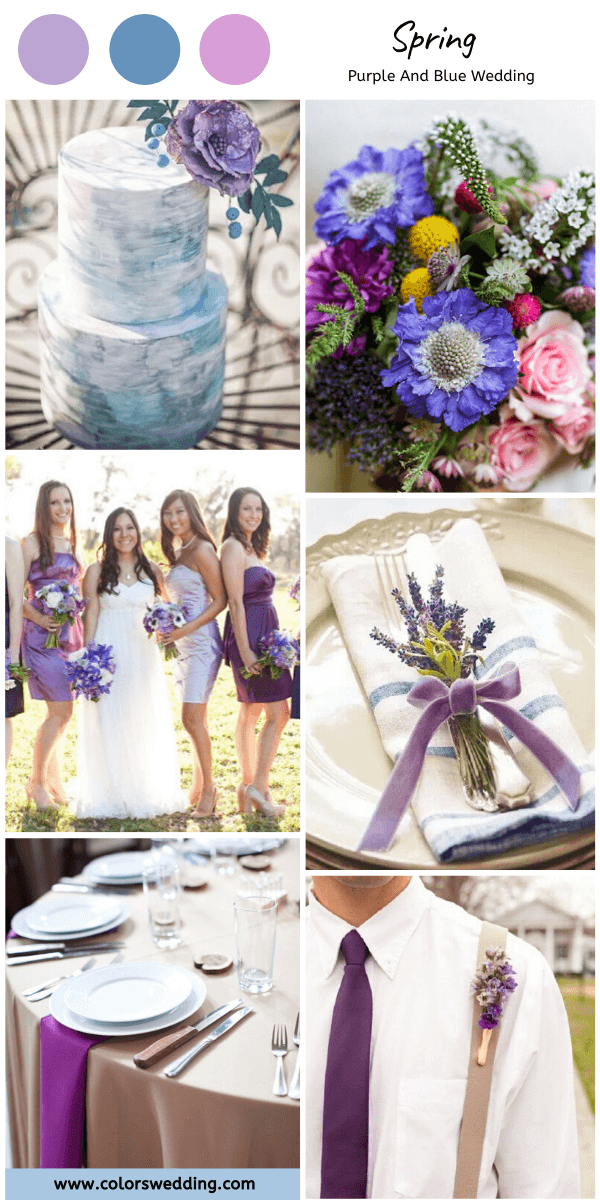 Purple And Blue In Summer Wedding
The navy blue and light purple are soft and cold colors which can creates a cool, romantic vibe on a summer wedding day. You can choose navy blue or purple dresses for your bridesmaids, choose navy blue men suit for your groom, decorate your purple wedding ceremony arch with white and purple flowers, make white wedding cake with white and lavender flowers.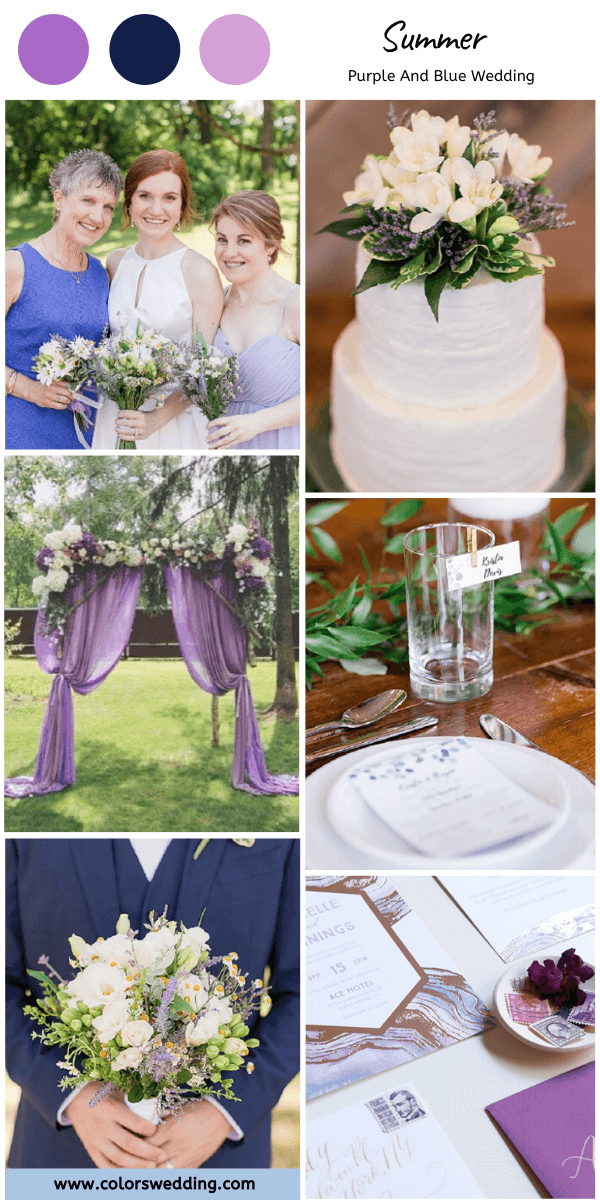 Purple And Blue In Winter Wedding
Royal blue is so noble and elegant, it looks so subtle when combining with purple. If you are preparing for your winter wedding celebration, this color palette will make your big day stand out. Royal blue bridesmaid dresses, purple bouquets with royal blur ribbon, white wedding ceremony arch decorate with purple flower, royal blue napkin , white wedding invitation print with blue and purple flower, royal blue table number and flowers setting on wedding table… The whole wedding looks so gorgeous.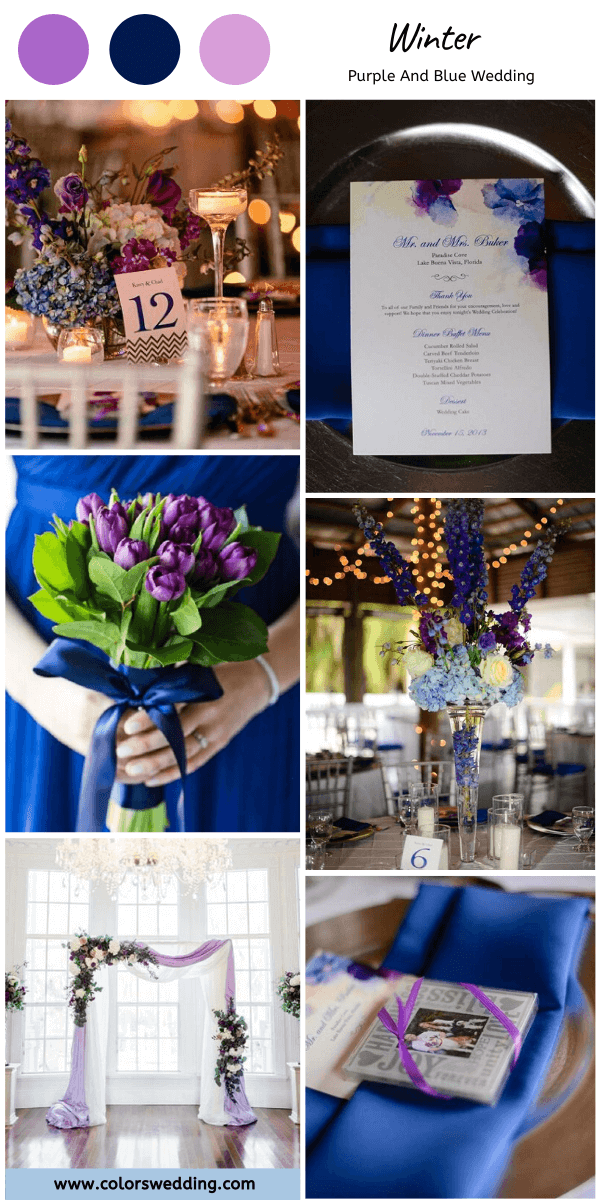 More Wedding Color Combos